What type of bathing products can i use in a Whirlpool bath?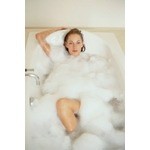 It's important to avoid certain types of bathing products in a Whirlpool Bath in order to prevent a potential cleaning issues and of course too many bubbles.
Avoid foaming bubble bath
For obvious reasons conventional bubble baths like Radox etc will foam up far more than normal in a whirlpool or air spa bath. The foam will quickly build up and get out of control. Too many bubbles should not damage anything in your whirlpool, but it will make a bit of a mess in your bathroom & take time to clean up.
Avoid bath oils or too much soap.
Don't use bath oils, or products that are likely to cause a build up within the pipework: Products that are oily or contain lanolin should be avoided as they can leave a film inside the pipes that attracts dirt and grime to stick to it.
Typically Bath oils, hair conditioners, soaps & emoilent skin treatments can all contribute to a build up within the pipes and be difficult to remove.
Whats best to use in a Whirlpool?
You want to enjoy your whirlpool bath, & it's not much fun bathing in just plain water.
Here's what we suggest to add to your bath water for a relaxing spa experience.....
Bath salts:
Dead sea bath salts are a good option for whirlpools as they don't foam up and they dont usually contain any oils.
Dead sea salts help to soften the water and are particularly beneficial in alleviating dry skin conditions as well as acting as a natural exfoliant thereby remarkably improving skin texture.
Pure-Spa low foam bath essences
Dedicated whirlpool bath additives are very good. Our range is available in 6 luxurious fragrances they are oil free & contain a foam controller so you will be able to enjoy the perfect balance of fragrance and bubbles.
Aromatherapy Bath fragrances in small doses these type of fragrances may be suitable but beware of those that require a carrier oil.